For some time now, Malawi, like Mozambique, has been suffering from flooding. The rainy season started in December and has been going on for four months now. There are already dozens of deaths and thousands of people are homeless. It is heartbreaking to receive the messages every day. NU.nl also reports on this.
Global climate changes are making this season increasingly intense. In poor countries, such as Malawi, the consequences hit especially hard. Places that are normally crowded are unrecognisable: they are under water or large parts of roads, buildings and plants have been washed away. The heavy rainy seasons are the result of the El Nino effect. As the temperature of the ocean water rises, there are longer periods of extreme drought and heavy rainfall. This combination ensures that everything made of sand and clay is easily washed away.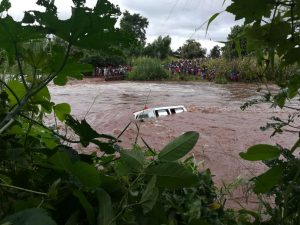 Another cause that makes the floods worse is deforestation. In the short term, people think they have more firewood. Unfortunately, this is thought from a lack of knowledge: they choose a short-term solution.
What do we do?
As Friends of Africa Foundation, we find it important to invest in the long term of a country like Malawi. When knowledge increases, choices will be better considered. The basis starts with the young generation in Malawi. Nowadays, knowledge is transferred from generation to generation through experience. With new knowledge, the youth can make better choices that will benefit the development of the country in the long run. Through more knowledge on climate, deforestation, irrigation and reinforcement of building constructions, Malawi can better defend itself against these heavy floods in the future.
What can you do?
Currently, the foundation is preparing the construction of a primary school. This primary school will be located in the village of Bolera, a village in and around which some 1,000 to 1,500 children are currently unable to attend school. Your support in this project is indispensable. Realising a primary school costs a lot of money, but is all the more rewarding. Knowledge is the most powerful weapon we can use to change the world. Will you help?
Related articles
Fran Uittenhout
Final amount of € 45,000 After 2 days glass house is a FANTASTIC amount raised! Thanks to everyone for making it possible to realize 2 great days: technique, DJs, volunteers, all sponsors, donors and of course all [Continue reading....]
Fran Uittenhout
Wijnand's BP petrol station has been a household name in Bunschoten-Spakenburg and the surrounding area since 1979. Quality and local involvement have characterized our gas station and Carwash for all these years. When guests choose Tank and Schenk, [Continue reading...]
Fran Uittenhout
The construction of the school building was to start at the beginning of May 2020 and was expected to be completed in September later this year. A group of enthusiastic volunteers was fully prepared to shoulder the [Read more...].
Stay informed of Foundation Friends for Africa