The harvest this year seemed to be very promising. The rainy season went well, the maize grew well and the people were grateful. Then, from 4 to 8 March, it started raining cats and dogs as a result of a cyclone that came from Mozambique to Malawi. This caused unprecedented flooding, especially in Southern Malawi, where unfortunately 45 people died, 577 were injured and 15,185 people had to leave their homes, which were no longer habitable. A total of 147,958 households have been affected.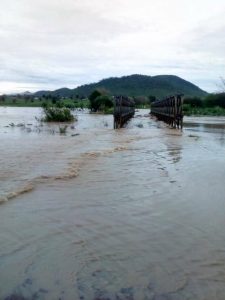 The water has collapsed houses, washed away crops, food and livestock. Roads and bridges have been destroyed, power lines affected and people's access to clean and safe water affected.
Primary schools have been closed for the time being, until the school authorities are sure that the roads are passable and the sanitation facilities will not lead to the outbreak of diseases such as cholera.
President Peter Mutharika has declared a state of emergency. Families who had to leave their homes have found temporary shelter in schools and churches. But they have to return to their places of origin. Children indicate that they would like to go back to school, have a safe shelter and food to eat.
We have made an inventory of the consequences of the severe rainfall and flooding and we want to start providing emergency assistance as soon as possible, in cooperation with the local authorities. This initial emergency aid will be done by raising funds.
Related articles
Fran Uittenhout
Final amount of € 45,000 After 2 days glass house is a FANTASTIC amount raised! Thanks to everyone for making it possible to realize 2 great days: technique, DJs, volunteers, all sponsors, donors and of course all [Continue reading....]
Fran Uittenhout
Wijnand's BP petrol station has been a household name in Bunschoten-Spakenburg and the surrounding area since 1979. Quality and local involvement have characterized our gas station and Carwash for all these years. When guests choose Tank and Schenk, [Continue reading...]
Fran Uittenhout
The construction of the school building was to start at the beginning of May 2020 and was expected to be completed in September later this year. A group of enthusiastic volunteers was fully prepared to shoulder the [Read more...].
Stay informed of Foundation Friends for Africa